Cycling is a fantastic way to get active, see the sights, and boost your health.
But finding cycling apparel that fits well and makes you feel confident can be a challenge for plus-size women.
The right cycling clothes are essential to comfort, performance, and safety.
At SheBeest, we offer a broad range of thoughtfully designed plus-size cycling clothing to empower women of all shapes and sizes. 
Why Plus-Size Cycling Apparel is Essential
Properly fitted cycling apparel is essential.
Loose or ill-fitting clothing can bunch up, chafe, and create discomfort over the miles. Our cycling-specific apparel is designed for comfort and functionality in the riding position.
The right-sized cycling clothes move with you, absorb sweat, and support your curves for a flattering fit. Having apparel made for your body type helps boost confidence so you can enjoy cycling to the fullest.
Benefits of Wearing the Right Cycling Apparel
Wearing properly fitted cycling clothing designed for plus-size women's bodies offers many benefits. The right cycling clothes help prevent chafing, don't absorb moisture, compress and support your body, and provide comfort on long rides.
Cycling-specific apparel also enhances safety through visibility and reflectivity.
Ultimately, the confidence you gain from a well-fitted cycling kit empowers you to ride stronger and further!
How to Choose the Right Cycling Apparel
Consider the Material
Look for plus-size cycling clothing made from high-quality technical fabrics with plenty of stretch and performance features.
Polyester and spandex blends are excellent choices that provide a great fit, breathability, and moisture-wicking.
Seams should lay flat and chafe-free. Quality fabrics last longer and maintain their shape with every wash.
Check the Fit
Pay attention to sizing charts and reviews to make sure you get a proper fit.
A well-fitted cycling kit should be snug enough to avoid flapping in the wind but should not be uncomfortably tight.
Go for a relaxed or loose style for good tummy and hip coverage.
Top Picks for Women's Plus-Size Cycling Apparel from SheBeest
At SheBeest, we offer a wide selection of thoughtfully designed plus-size cycling apparel to meet every rider's needs.
Here are some of our top categories:
Plus-Size Jerseys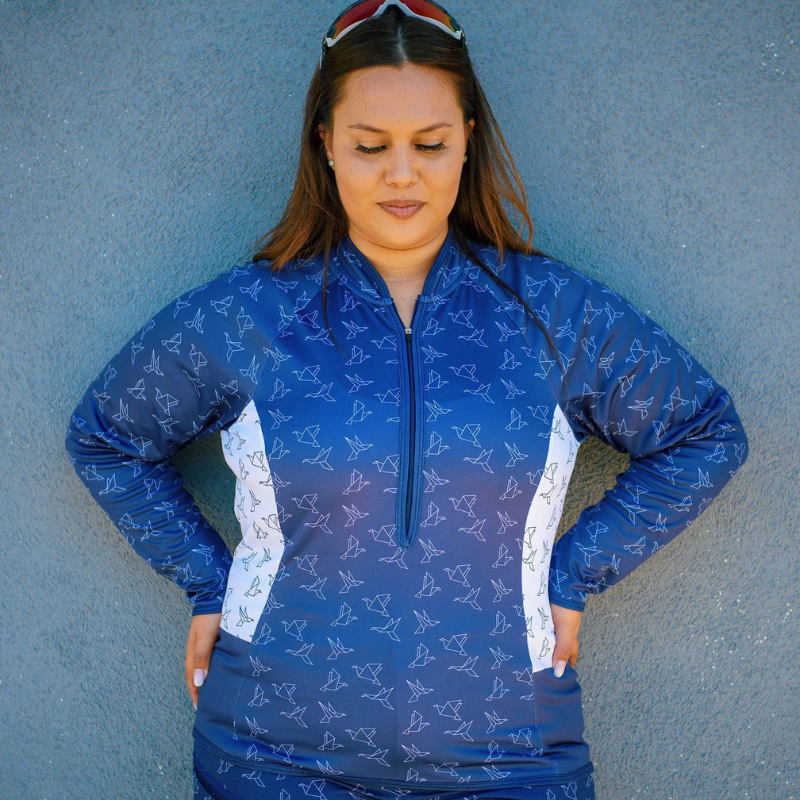 Our plus-size cycling jerseys come in relaxed and contour-fit styles.
Choose from short-sleeve or 3/4-sleeve options.
We use lightweight, moisture-wicking fabrics with stretch for the ideal fit. The Divine Jersey and Bellissima Jersey are customer favorites.
Plus-Size Shorts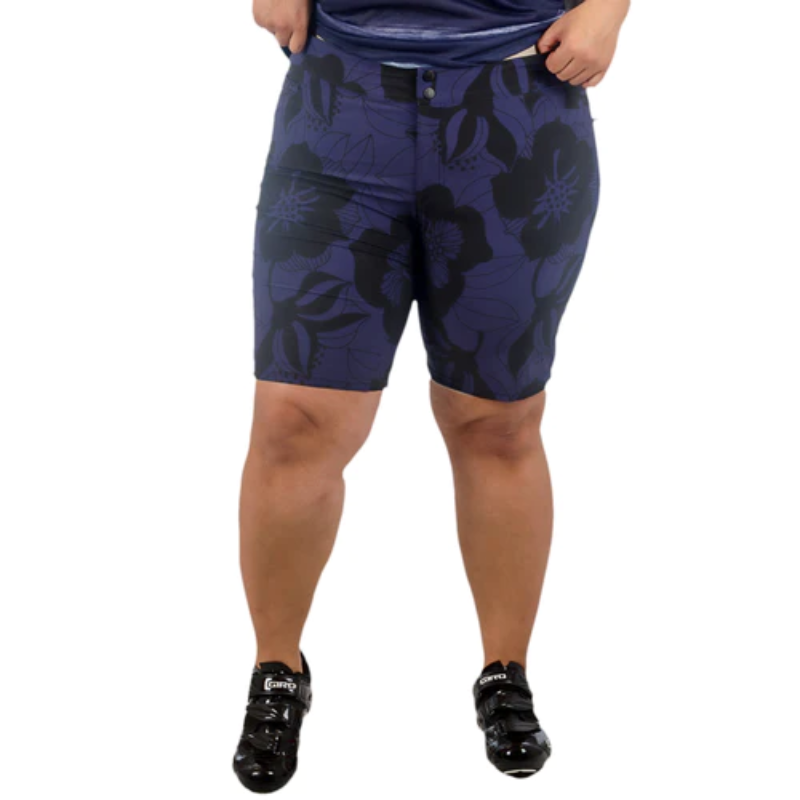 Our plus-size cycling shorts feature an exclusive SheBeest women's specific chamois for all-day comfort.
Choose from classic padded, loose fit, and high waist styles.
We provide shorts in a variety of styles, colors, and patterns.
Frequently Asked Questions
How should cycling apparel fit?
Cycling apparel should fit close without restricting movement or causing discomfort. The fabric should skim your frame without pulling or sagging. Tops should have a snug but not too tight fit across the shoulders and torso. Bottoms should be form-fitting but not dig in at the waist or thighs. Quality brands like SheBeest offer a size chart to help find the best fit for your measurements. Try a few sizes to determine what feels most comfortable.
Click here to check out our size chart.
What is a chamois and why is it important?
A chamois is the padded insert in cycling shorts, tights, and sometimes even tops. This layer of foam padding is important for maintaining comfort while riding. The chamois prevents chafing, absorbs vibration, and wicks moisture. In addition, it protects sensitive areas from friction and impact during hours spent riding.
How do I care for my cycling apparel?
Follow these tips to keep cycling gear performing best:
Wash in cold water on a gentle cycle

Hang dry instead of using a dryer

Wash dark colors separately

Use a garment bag to prevent snagging zippers/Velcro

Avoid fabric softener, which inhibits moisture-wicking

Check elastic and seams for wear
Conclusion: Boost Your Confidence with SheBeest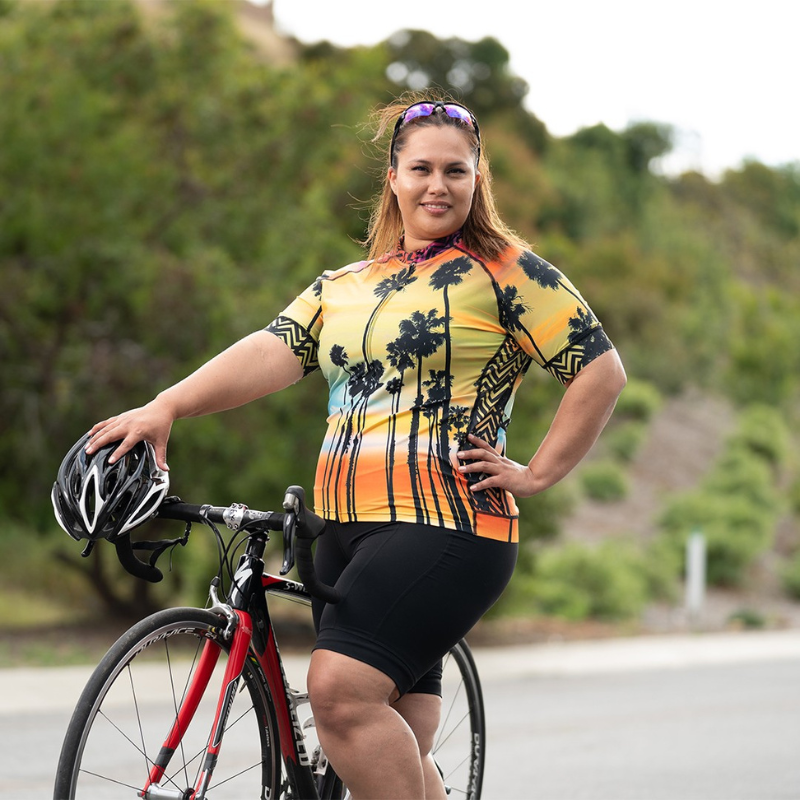 Finding stylish, comfortable cycling apparel can be difficult for plus-size women. SheBeest designs cycling clothing with your needs in mind.
Our selection of thoughtfully engineered plus-size apparel empowers all women to ride with confidence.
Explore our jerseys, shorts, tights, and more specially crafted for your body. Join our community of empowered women cyclists and boost your confidence on the bike with SheBeest!