Cycling is freedom.
The wind in your hair, the hum of spinning wheels, the blur of the landscape as it rushes by—for many of us, road cycling represents liberation and empowerment.
When it comes to road cycling apparel, we require gear that performs as beautifully as it looks.
At SheBeest, we offer high-quality cycling clothing tailored specifically for the female form.
Whether you're a weekend warrior or training for your next-century ride, we invite you to discover why everyone chooses SheBeest for their apparel.
What Goes Into Good Road Cycling Clothing?
As women, we have different needs than men when it comes to cycling clothing. To enjoy the sport comfortably and safely, it's always important to choose pieces designed specifically with our bodies in mind.
Fit and Functionality
A proper fit is important, both for performance and comfort. Cycling clothing should move with you, not restrict you.
Material and Durability
Cycling clothing must withstand countless miles in the saddle. Premium fabrics have stretch, breathability, and durability. Details like reinforced seams and silicone grippers can increase longevity.
Safety and Visibility
Making sure we're seen is step one on the road. Our cycling wear offers reflective accents and bright colors to enhance visibility and safety.
3 Essential Pieces of Women's Road Cycling Clothing
When it comes to cycling, we all need those go-to apparel pieces we can trust on the road.
Here are some of the community's top picks:
Faded InVest
The Faded InVest from SheBeest is a lightweight 3-layer vest designed for wind and water protection without sacrificing breathability.
The front uses a waterproof, windproof, and highly breathable membrane, while the back is a stretch fabric for close-to-body fit.
Features include a tall collar, full-length zipper, draft flap, zipper garage, flat-shaped hem, and reflective accents for visibility.
This versatile vest transitions well from chill morning rides to warmer afternoons.
Dog's Tooth Divine Jersey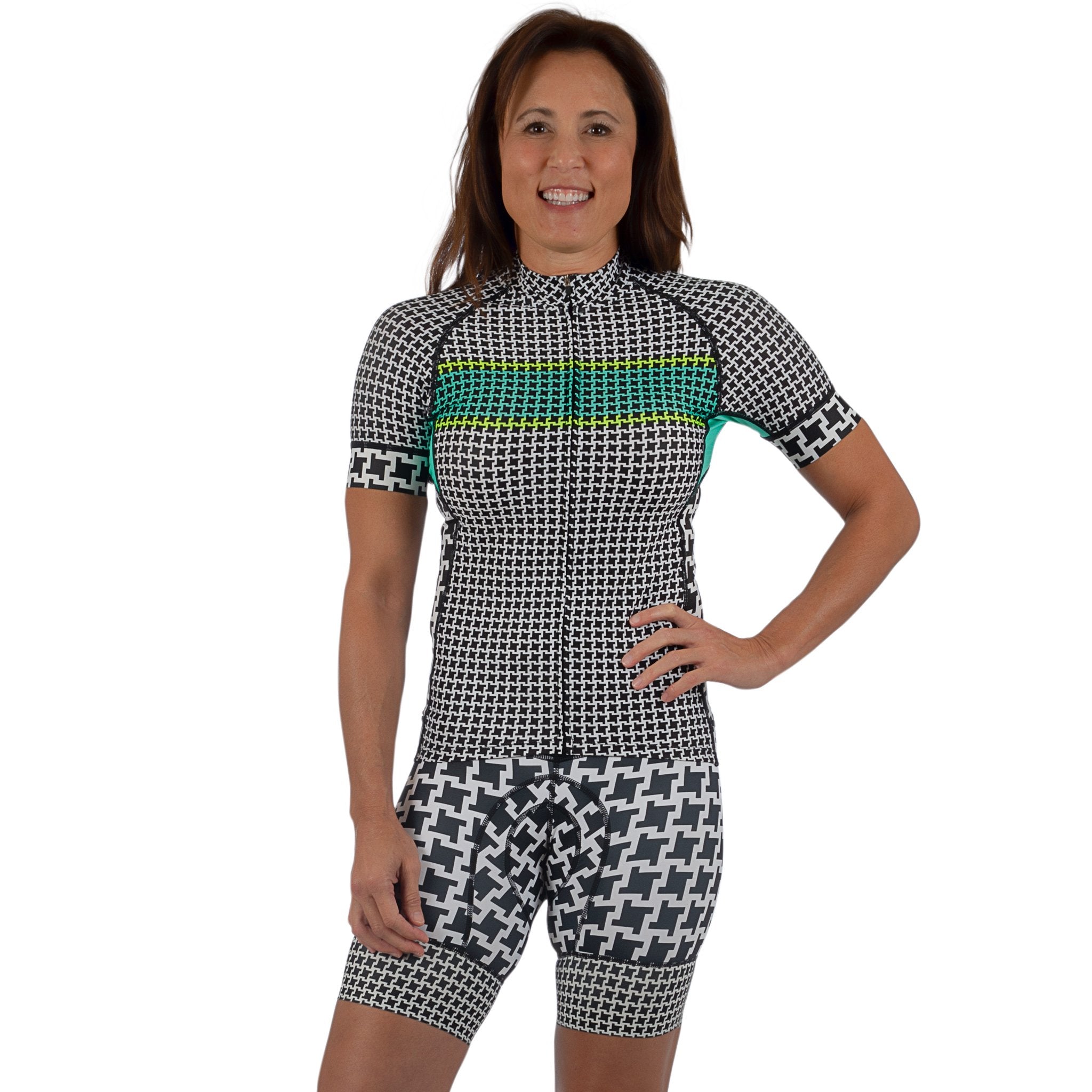 The Dog's Tooth Divine Jersey from SheBeest is a customer favorite for its soft, silky fabric and moisture-wicking performance.
Available in an eye-catching dog's tooth print, this contoured fit jersey uses advanced fabric technology to keep you cool and dry on rides.
It has a full-length separating zipper, three back pockets, a forgiving hem, and reflective details. Offering both style and function, this one is an ideal jersey for road cycling.
Pretty Sweet Short
The Pretty Sweet Short from SheBeest combines the comfort of your favorite yoga tight with the performance of a cycling chamois.
Made of a buttery-soft, nylon-spandex blend, this short features a wide, elastic-free waistband and sleek seams. The Shelastic 2.0 chamois provides four-way stretch and extended fabric wings to eliminate chafing.
If your goal is riding in style and comfort, the Pretty Sweet Short is a clear winner.
How to Choose the Right Size in Women's Cycling Clothes
When choosing the right cycling clothes, remember that proper fit enhances comfort and performance.
Consider your measurements and desired close fit. Cycling clothing should be snug but not constricting.
Refer to our size charts to identify your size based on the statistics. You may take different sizes for tops and bottoms. Don't hesitate to exchange sizes if needed so you can get the most ideal fit.
SheBeest Size Charts
To help you choose the best size for your rides, we've made detailed size charts.
Compare your measurements to choose sizes for tops, bottoms, and accessories. If between sizes, size up for a looser fit. Contact our team if you have sizing questions.
We're happy to provide guidance so you can find the perfect fit.
Women's Road Cycling Clothing FAQ
Why is cycling clothing so tight?
Cycling clothing is designed to be form-fitting to enhance aerodynamics and performance on the bike. The tight fit allows the fabric to move smoothly with your body as you pedal and prevents flapping that can slow you down.
What should I look for in women's cycling shorts?
Look for shorts with a snug, compression fit that doesn't restrict motion. Quality shorts have a molded women's chamois for padding and support. Leg grippers help keep shorts in place.
How often should I replace my cycling jersey?
Most cyclists should replace jerseys every 2-3 years. Signs it's time include stretching, worn grippers, and thinning fabric. Replace sooner if you notice tears, holes, or a decline in performance.
Shop the Look: Complete Cycling Outfits from SheBeest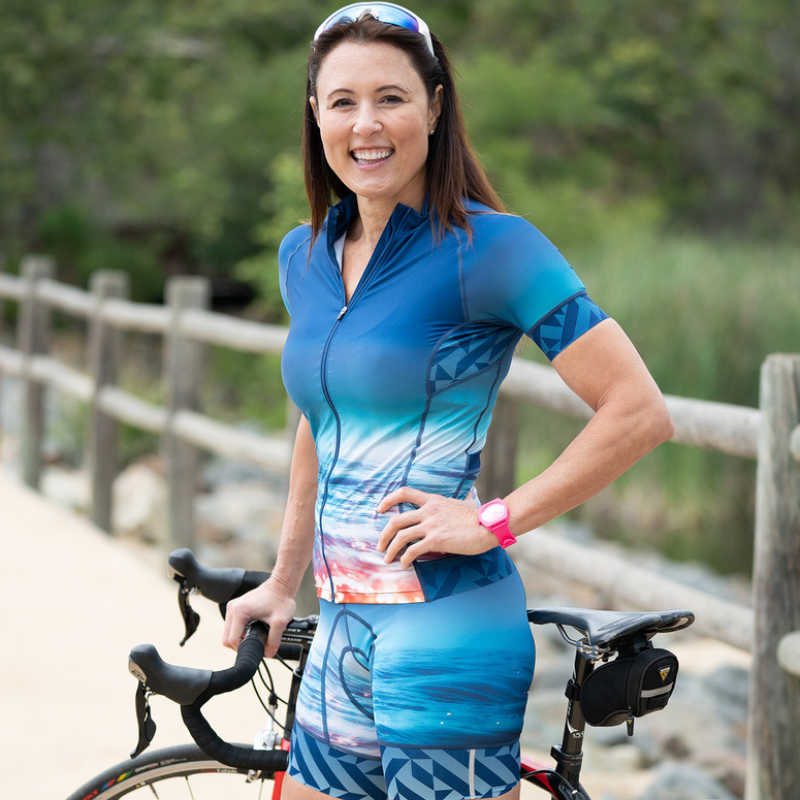 At SheBeest, we offer curated cycling kits for head-to-toe style and performance. Our pre-selected sets bundle jerseys, shorts, jackets, and accessories so you can easily grab a complete outfit.
Click here to learn more.